Stainless Steel Wire
We produce and supplie stainless steel wire of complete sizes. We are especially experienced in producing stainless steel fine wire.
Stainless steel wire: High strength, excellent anti-corrosion property, good preventing and anti-radiating property.
Materials for Stainless Steel Wire: 304, 304L, 316, 316L.
Wire Diameter: 0.025mm to 5.0mm.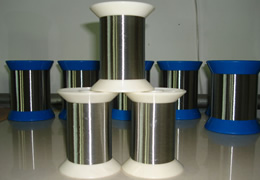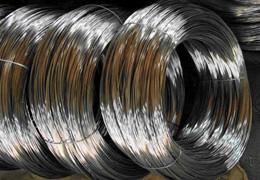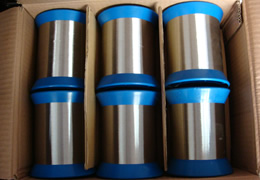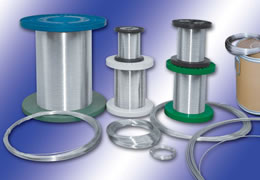 Peculiarity: Stainless Steel Wire enjoys many featues, such as wear-resistant, high intensity, small Stretch ability; because the fine wire, oil and ink is easy to pass; Mechanical and chemical Properties of wire mesh is stably, also the dimension definition is stably.
Applications: Stainless Steel Wire is used in wire-drawing, weaving of wire mesh, soft pipe, beam of cabinet, steel wire rope, filter material and equipment, spring, etc.
Chemical composition of stainless steel wire

AISI
Grade

Chemical Composition(%)

C
Si
Mn
P
S
Ni
Cr
Mo
304
>=0.08
>=1.00
>=2.00
>=0.045
>=0.030
>8.00~10.50
>18.00~20.00

-

304H
>0.08
=1.00
=2.00
=0.045
=0.030
8.00~10.50
18.00~20.00

-

304L
>=0.030
>=1.00
>=2.00
>=0.045
>=0.030
>9.00~13.50
>18.00~20.00

-

316
=0.045
=1.00
=2.00
=0.045
=0.030
10.00~14.00
10.00~18.00
2.00~3.00
316L
>=0.030
>=1.00
>=2.00
>=0.045
>=0.030
>12.00~15.00
>16.00~18.00
>2.00~3.00
430
=0.12
=0.75
=1.00
=0.040
=0.030

=0.60

16.00~18.00

-

430A
>=0.06
>=0.50
>=0.50
>=0.030
>=0.50

=0.25

>14.00~17.00

-
Sizes of Stainless Steel Wire
Wire Diameter(mm)
Tolerance(mm)
Max. Deviation Tolerance (mm)
0.020-0.049
+0.002 -0.001
0.001
0.050-0.074
±0.002
0.002
0.075-0.089
±0.002
0.002
0.090-0.109
+0.003 -0.002
0.002
0.110-0.169
±0.003
0.003
0.170-0.184
±0.004
0.004
0.185-0.199
±0.004
0.004
0.200-0.299
±0.005
0.005
0.300-0.310
±0.006
0.006
0.320-0.499
±0.006
0.006